#1 – Julie-Su
Fuck Julie-Su.
This character is poison to me. I hated everything about her when I got into the comics. It wasn't like Sally who I could work around if I just ignored some things about her.
Upon initial introduction she just looked like a re-color of Knuckles, which is understandable I guess. Come to find out that she's supposed to be Knuckles' girlfriend.
…?
Okay sure. I guess… maybe…?
In this one issue where Antione and Bunnie got married, someone asked when Knuckles and Julie-Su were going to tie the knot and Knuckles responded that he didn't need a ceremony to express his life-long commitment to her. It's something of that tribal instinct that was instilled into him from being isolated from everything. Sure.


I fucking love Rouge the Bat.
What bothered me was that I could not get a good read on whatever the fuck I was supposed to like about her. She's probably, without a doubt, the bitchiest character I've ever seen in the Sonic medium. It's not even do in a charming likable manner. Seriously, I liked Lien-Da a lot and she was a bitch too but she was an enjoyable bitch because she was a villain. I honestly ended up wanting Julie-Su to lose to her.
Even when Knuckles was saying that stuff about not needing a ceremony to express his love for her, she was just standing there with a huge scowl on her face. It seems all she ever does is pout and scowl and growl and piss and moan and --fuck off with that okay?
Not helping is the fact that her and Vector didn't like each other. If you're a fictional character with a terrible personality and you don't like Vector then you and me are going to have a problem. It sucked.


Crank that shit up!
She showed up so much and whenever the supposed "Team Chaotix" made their debut in the comics again before the time-skip, it was always a group of people who weren't really the "Chaotix" to me. They weren't even the Chaotix as far as the 32X game was convinced. It was usually Knuckles with Julie-Su, Mighty, Ray (Ha.) and Espio. Maybe I'd get to see Vector if I was lucky. Charmy? Yeah right. Him and Saffron were regulated to background fodder because the writer at the time made an incredibly embarrassing mistake concerning Charmy's character and as a result, touching upon him made him feel uncomfortable because of it.
He was 16 years old before the reboot, but due to a desperate need to make things closer to the games, they wanted him to at least ACT like he was a hyperactive 6-year-old… so they gave him brain damage. And then refused to use him at all afterward. Cause that's how that works. Do something so you can use a character more in the way you want and then not use them at all because the method you used to force your agenda was bloody fucking horrible and incredibly offensive.
I wouldn't be surprised if Julie-Su was the result of some pencil pusher looking at Knuckles and saying "He needs a love interest!"
Cause that's totally what Knuckles needs. A gun touting, scenery munching waste of space who only served to make me angry and waste my time on her weird dilemmas when I could be entertained by characters I do like. And believe me. There's a lot of characters in the comics I did like, not just the game ones. I liked Mammoth Mogul, Finitevus, Snively, Naugus (I fucking LOVED Naugus...) and later even came to love Geoffery St. John... mostly because I really like the comics villains. The heroes are all really hard to get into and Julie-Su here was the rock bottom garbage pail of failures in that regard to me. It's not as though I mind focus on other characters you've made up. I don't mind that at all. I'd do it too if I were in charge of the comics, but not to this extent.


Ixis Naugus for King; Change we can believe in.
She's horrible. She's terrible. There's not even that much of a tangent to go on concerning her compared to Sally because everything awful about her is so blatant and out in the open to me. I find her character to just be... gross. She might be the only character within this series that I can actively find time to hate (aside from Sally) and I'm ecstatic that she's no longer in the book.
The reboot's been A LOT better about that shit then the stuff before it. I've said this a few times but I really mean it. I'm REALLY enjoying the hell out of the current story arc going on. Mostly because it's so much freaking fun, however, a big playing factor is due to the fact that all the participants within the main story line are all characters from the games. And they're in an expanded environment that exists within the games (Casino Park!) and make good use of my time.
I had a lot more to say about this then I thought I would. Next time I'll do a list of Sonic Characters I'm indifferent towards. People that I may like or not like but don't love and don't hate. See ya then.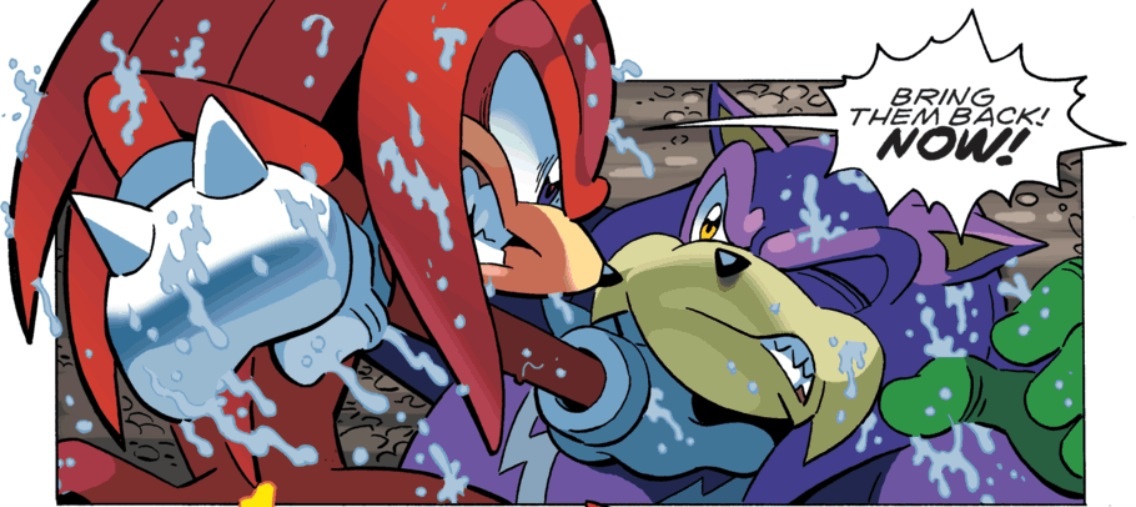 Sorry Knux, but your girlfriend drank a full bottle of "Bitch-Be-Gone" and ain't comin' back. Peace!